From J.K. Rowling review in Sunday Telegraph's Seven magazine:
"Decca: The Letters of Jessica Mitford gives, as letters usually do, a much fuller picture of
the writer than either of her own autobiographies, and I finished reading feeling even fonder and more admiring of her than before. … The letters span a life that was remarkable by any standards. …
"Incurably and instinctively rebellious, brave, adventurous, funny and irreverent, she liked nothing better than a good fight, preferably against a pompous and hypocritical target.
"Peter Sussman has done a masterly job of editing these letters, which must have been a veritable minefield given that, as he says, 'Decca's views were often stated intensely and provocatively.' His footnotes are exemplary, illuminating at least one relationship that had eluded me through 27 years of reading about the Mitfords. By grouping the letters chronologically, dividing them according to periods, he manages to give unobtrusive form and structure to a life that was lived chaotically."
From a review in the London Sunday Times by Miranda Seymour:
"Yes, it's the size of a doorstep. But having read my way through it, I'm already wishing
there was a second volume. Peter Y. Sussman is a sublime editor of one of the funniest, most enthralling and gloriously honest collections of contemporary letters I have yet read. …
"Decca's sense of humour flows through her correspondence as brightly and dangerously as a fencer's rapier. Here is a book to be savoured and revisited: impure and undiluted pleasure, from start to finish."
From a review in the New York Times by Richard Eder:
"…'Decca,' a 744-page collection of letters, painstakingly and usefully edited by Peter Y.

Sussman, a journalist and friend who has contributed lengthy biographical accounts between sections.
"The letters are a treasure. Decca lived and battled by a pen that was as graceful and witty as it was sharp. Teeth were her means of propulsion, her wings; and the marks they left were singularly fine and even to be prized. She was, consummately, a happy warrior; in her letters, as in her books, she gets at her targets — the funeral directors, fat-farmers, prison establishment, writing programs — with their own words. There is no insult like a mirror's."
From a review in the Washington Post by Michael Dirda:
"If you don't know about Decca, as everyone called her, just start reading this terrific

collection of letters and hang on for the ride. …
"Decca, the subversive housewife, reared three children, agitated, protested, and wrote … as this book shows, lots of letters. Wonderful letters. On every page of this enormous volume, she is right there — funny, smart, swinging hard, fiercely uncompromising. …
"Throughout her life, Decca laughs — 'roars' is her favorite verb — at the quirks and prejudices of the rich or racist. …
"This is a superb collection of letters, and editor Peter Y. Sussman deserves the greatest possible praise and gratitude. His introduction, connecting essays and extensive notes supply all the biographical and historical information a reader needs. Being witty as well as scholarly, he is precisely the right guide through this life in letters of the most astonishing of the astonishing Mitford girls."
(Amazon.com has posted this review in its entirety, except for the omission of Michael Dirda's name. It can be read here.)
From The New York Observer fall book roundup:
"For sheer pleasure–just to sample the breadth of an extraordinary existence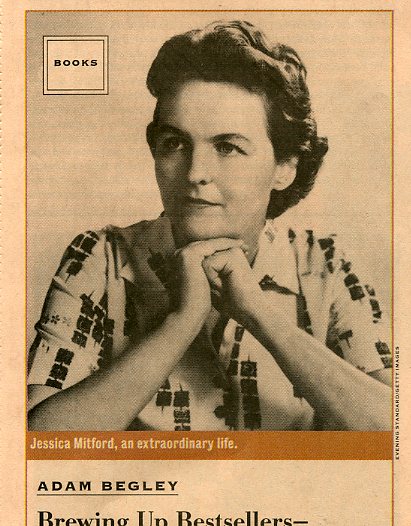 –the book of the season has got to be Decca: The Letters of Jessica Mitford, edited by Peter Y. Sussman."
From The New Yorker:
"[Her] letters are so full of comic set pieces, vivid narrative, and wonderfully replicated speech … that one wonders why Mitford never tried writing a novel. … One suspects … that the novel would have seemed too precious and artificial a form to such a lover of real-life rumpus and corrective action. …
"'Decca' is a smashing accumulation, a buoyant offering atop the last wave of a literary form that now, having disappeared into the electronic ether, lies as dead as one of Mitford's Flextoned corpses."
From Publishers Weekly starred review:
"Sussman … has gathered an array of letters that capture Mitford's legendary wit, warmth and self-deprecating humor: decades of exuberant—and sometimes sparring—correspondence … Mitford's letters crackle with wit and mordant observations."
From a review in The Observer (London) by Rachel Cooke:
"These letters are a treat: not so much a collection of correspondence as an extended

conversation on which the reader is invited to eavesdrop. Nor, thank heaven, are they in the drear service of mythology. …
"Decca loved post and, to ensure rich bounty, became a supreme letter writer herself – always rushing straight to the heart of the matter
"Mitford-despisers complain that we fans too easily forgive them their sins on account of their rare wit and charm. Well, in the case of Decca at least, this charge is unfair. … The fact remains that as an example of what a woman can do once she has rid herself of, or at least decided to ignore, the expectations of others – family, men, society – Jessica Mitford will always take some beating. That she is also a hoot is merely the icing on the cake."
By Caroline Moorehead in The Times Literary Supplement:
"Confrontation fuelled Mitford's life; and it is this spirit of attack combined with a desire to confront injustice in all its forms, as well as hypocrisy, cant, self-importance and greed, that fills her letters, from those written as a young woman to her last ones, sent shortly before her death in 1996. Decca, a collection of her letters that spans sixty years, is not only a portrait of an intrepid, humorous and affectionate woman, but a look at class and politics through the eyes of someone to whom good writing mattered and intimacy mattered even more."
From New York Observer review by Diane Johnson:
"She was … a compulsive correspondent for whom letters were the staff of life.
"Although Decca: The Letters of Jessica Mitford is over 700 pages long, the letters it contains, very well edited by Peter Sussman (his biographical essays and notes are invaluable in keeping track of this eventful life), represent a modest fraction of Decca's epistolary output. That's all that's modest about these exuberant and take-no-prisoners missives to the world."
From a review in the Vancouver Sun by Karenn Krangle:
"For anyone who has feasted on [Jessica Mitford's] books (including the autobiographical Hons and Rebels) and those of her sister Nancy (such as Love in a Cold Climate) Sussman's exquisitely compiled collection is a rich dessert."
Liz Smith in the New York Post:
" … [T]he celebrated editor-author-columnist Tina Brown … did me a big favor at year's end. She sent along the Knopf book, put together by Peter Y. Sussman, titled 'Decca: The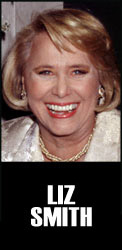 Letters of Jessica Mitford.'
I thought I had already read all there was to know of the famous/infamous Mitfords, the privileged but neglected children of the aristocratic Lord and Lady Redesdale. These tots were described as 'uninhibited – living a self-sufficient life of tradition and frivolity punctuated by their charming but sclerotic father's blustering outbursts.' The Mitfords became 'a savage little bunch,' communicating in made-up languages and masterful cruel teasing that continued into adulthood. The sisters remained in the public eye for their lifetimes with family quarrels over published books and articles and internecine arguments of ideology, politics and temperament. They were so often headlined in the press that one waggish journalist invented an imagined Mitford girl just to take up any space they left. …
"Jessica, or 'Decca' …lived to be celebrated as an unrelenting defender of human rights, a demanding reporter and social muckraker.
"So in a 1996 letter from Decca to friends, I was pleased to discover my self mentioned as she wrote of her ailing husband Bob Treuhaft: 'He's a tad better today – talking ordinary, noting when one tells him things in the paper such as super report on the Nation in the Liz Smith gossip column.'
"Never thought I'd find myself in the rarefied Mitford aura."
From a review in The Spectator by Anne Chishohlm:
"[T]his book, a labour of love and admiration, is, despite its length, a great treat and a deserved tribute."
From a review by Kathleen Byrne in The Globe and Mail:
"… [Y]ou read her despite, and not because of, her connection to that tiresome clan

already so fully mythologized a quarter-century ago. …
"[T]hey were headline fodder from the beginning, the six female progeny of Lord and Lady Redesdale (Farve and Muv as they have, inescapably and regrettably, come to be known); perhaps the only sane response was the one [Jessica] adopted, the mocking wit and cockeyed slant so robustly in evidence in this fine, funny, collection, Decca: The Letters of Jessica Mitford.
"She escaped to America; that helped, too. The woman for whom activism was as breathing — her first political act in her new country was to stage a "pee-in" to protest a lack of bedpans in the maternity ward where her daughter Constancia was born — could only benefit from the motherlode of material she would hit upon in McCarthyism, the civil-rights movement, the funeral industry and the prison system, among much else."
By Liesl Schillinger in the New York Times' Sunday Style:
"Jessica, the author of the lacerating study on the funeral industry, 'The American Way of Death,' brimmed with social conscience. In 'Decca: The Letters of Jessica Mitford,' a lifetime of letters immortalize a shining intellect."
By Holly Brubach in the New York Times T Style Magazine:
"The Mitfords were not so much a family as a tribe, with their own impenetrable private vocabulary … their own customs and even a 'Mitford voice' … and the reader encounters them with wonder and trepidation.
"Those who have already made their acquaintance will want to proceed directly to the latest addition to the family canon: 'Decca: The Letters of Jessica Mitford,' edited by Peter Y. Sussman (Alfred A. Knopf), spanning more than 70 years of correspondence and 700 pages. Of all the Mitfords, it was Jessica who succeeded in putting the greatest distance between herself and her family, zigging left when the rest of them zagged right (she was the only daughter to be disinherited), and her political convictions are on display throughout her letters and her life. …
"Decca's have the breathless, run-on ring of someone thinking out loud. … The effect is entertaining and often surprisingly moving."
From Booklist starred review:
"Her letters are forthright, warm, and witty to the point of being laugh-out-loud funny. … From childhood notes to her parents to a letter to her husband of 53 years, labor lawyer Bob Treuhaft, days before her death in 1996, this is a treasure."
By Christopher Hitchens in The Atlantic Monthly:
"… [Jessica Mitford's] mad father, when making dispositions of his property,
wrote in his will the words 'except Jessica.' And the bookstore at the Devonshire stately home in Chatsworth displays works by and about every Mitford sister but her. These paltry aristocratic gestures confirm, as do these letters, that it was Decca, exiled and intransigent, who was the exceptional one."
From Vogue:
"Edited by Peter Y. Sussman, Decca: The Letters of Jessica Mitford (Knopf) captures history's most charming muckraker, from her friendships with Katharine Graham and Maya Angelou to her devotion to civil rights, which led to a subpoena to testify before the House Un-American Activities Committee–an experience she later listed under Honors, Awards, and Prizes on her résumé."
From a roundup in Canada's National Post:
"You don't have to be a fellow traveller to savour these missives that touch on all aspects of Mitford's life and times and, especially in later years, her relationships with her extraordinary sisters. One for the bedside table."
From a review by D.J. Taylor in The Independent (U.K.):
"No doubt about it: Jessica Mitford (1917-1996) had one hell of a life. Whether as a

precocious child sharing a bedroom with her proto-Fascist sister Unity Valkyrie in Lord and Lady Redesdale's Cotswolds nursery, eloping to the Spanish Civil War with her cousin Esmond Romilly, setting up as a US civil-rights activist with her second husband Bob Treuhaft, or embarking on a fresh career as a crusading journalist, she combined the ancestral taste for high society with an attachment to every good brave cause that her adoptive country had to offer. Smart radical bohemia knew no finer exponent. And yet by far the most interesting thing about Decca, as in anything written by any one of the six Mitford sisters, is her voice. …
"[I]t creates a kind of linguistic space where the irony is so super-subtle that it sometimes escapes detection, where anything can be said, or conspicuously not said, and where the people one loves most fiercely can be ripped into pieces without ever compromising the ties of kinship. …
"[An] absorbing collection. … Flippancy and seriousness uncomfortably mingle, cultures riotously clash."
From Natalie Haynes' column in The Times of London
("Get warm; burn a Xmas book"):
"[Y]ou should have a good idea of just how traumatic I must have found this year's Christmas books guides. What in hell's name is going on? Why are almost all books sold at this time of year written by people who despise writing, for people who hate reading? …
"In fact, browsing through the lists, I rather feel that a well-placed warehouse fire could consume all biographies and memoirs, bar Stuart: A Life Backwards and Jessica Mitford's Letters, with no loss to literature at all. I know, burning books is fear-mongering censorship. Unless it's Victoria Beckham's That Extra Half an Inch. Then it's a kindness."
From Library Journal review:
"Letters were an essential part of Decca's life. As editor Sussman … eloquently summarizes, [these letters] served as 'chatty updates on her activities, masterful exercises in storytelling, and as early drafts for her professional writing.' The chronological arrangement provides readers with an intimate glimpse of Decca's existence. … In the introductory essays preceding each of the nine sections, Sussman identifies people, puts events in historical context, and meticulously elaborates on elements in the letters. His analysis of Decca's influence on her immediate circle of intimates as well as her impact on the larger community–­both national and international–­is perceptive and illuminating. Highly recommended for all collections."
From a column by Martin Snapp in the Contra Costa Times:
"It reads like a novel, and it's gossip of the highest order."
From a review by Mark McGinness in The Australian:
"A thumping 700-plus pages of letters written over 70 years by the fifth [Mitford] sister,

Jessica, reminds us of what an extraordinary brood they were. … [T]hey were each quite distinctive but all clever, vivid and driven, a dangerous combination for girls who were finished but not educated.
"Even among best-selling writer Nancy, beautiful, scandalous Diana, Hitler-obsessed Unity and dazzling duchess Debo, Jessica (always Decca) was a stand-out. … Her pluck and spark leap from the pages of her first letter … to her last, 10 days before she died. …
"This collection, flawlessly edited by Peter Sussman, reveals a star: Decca is funny, frank and fearless."
From a review by Ruth Scurr in The Times of London:
"In his introduction to Jessica (Decca) Mitford's letters, Peter Y. Sussman reflects on the nature of the genre: 'Compilations of correspondence are necessarily biographies of a kind — biographies of individual consciousness, with less intrusive mediation and interpretation than one finds in a traditional biography.'
"The idea of a biography of a consciousness is intriguing. …
"Of the myriad fascinating and unexpected things that Decca's letters reveal, it is her recovery from childhood resentment that moves me most."
From a review in the Winnipeg Free Press by Douglas J. Johnston:
Of all the Mitford sisters, "it's Jessica Mitford — left-wing activist and American immigrant — whose literary light ultimately shone brightest. …
"And then there are the letters themselves — witty, literate, honest to a fault. Mitford the writer surfaces in Mitford the correspondent.
"The breadth of her reading and the freedom of her prose style appear to owe a lot to the fact that she was not university educated. …
"Decca's correspondence reverberates down through the years.
"And editor Sussman's object — saving it from ephemerality via collection in this volume — is an unmitigated success."
From a review in The Scotsman by Amy Mathieson:
"[Decca gives] us a stunningly complete view of the 20th century and all its major events,

from 1923 right up to 1996 – from the perspective of a unique individual. The Second World War, the Hungarian uprising, the Vietnam war, the civil rights marches, the death of JFK, it's all here, noted down by a political activist and expat. …
"The Jessica Mitford who shines through this collection is ultimately one we would expect to see – frank, fearless, humorous, caring, but never suffering fools gladly. Her writing is vibrant and compelling to the very last page."
From a review by Brenda Niall in The Age (Melbourne):
"Decca: The Letters of Jessica Mitford is a wonderfully rich and varied collection. Far better than her autobiography, Hons and Rebels, it brings together the extremes of her two worlds: the English aristocracy of her birth and postwar American radical politics. …
"Decca (as Jessica was known) [was] the most sympathetic member of the famously eccentric Mitford family.
"She shared the comic sense of her novelist sister Nancy. Both were brilliant letter writers, open, direct, funny, sharply satirical. But because Decca's life was more varied, more open to experience, than Nancy's, her letters are more satisfying. …
"Anger surfaces in her abiding fury at having been denied an education, but on the whole the comic spirit prevails in this large, well-edited and generous volume of her letters."
From a review by Daphne Merkin in Slate:
"These letters are rarely less than amusing, colored by a salubrious scorn for the pieties

and deceit of the status quo and marked by Decca's gimlet eye for the maliciously telling detail. …
"[O]verall, it's impossible not to be drawn in by Decca's spiky charm and disarming curiosity, which remained with her to the end. … Perhaps it's only Decca exerting her force of will once again, but in a world that seems to grow ever more homogenized, it is refreshing to encounter a one-of-a-kind character­–however eccentric and bullying­–specially at safe remove. … Decca remained a naughty child all her life, one who ventured out from the nursery, thinking of ever more ingenious ways to annoy or alarm the grownups. But who among us doesn't nurture a feisty inner imp, intent on having the last laugh before bedtime?"
From a review in The Irish Times by Mary Russell:
"Her spirit was exhilarating and indomitable and it is a credit to all that is right and just in both England and the US that the one produced her and the other found a place for her."
From a review by Martin Rubin in the Washington Times:
"Life wasn't all Communism for Decca, as anyone who dips into this marvelous collection of letters, excellently edited and annotated by Peter Sussman, a longtime editor at the San Francisco Chronicle, will soon find out."
From an essay in the S.F. Bay Guardian by Amanda Witherell:
"To read artfully composed letters can be more than a sentimental reminder of the loss of pen and paper; where private correspondence has been made public, it's an entrance into a state of mind where you weren't originally invited. The E.B. White letters teem with this sort of interest, and so does Decca: The Letters of Jessica Mitford, a recently published collection of correspondence by a contemporary of White's. The two were masters of a form that brought them neither money nor fame, constituting merely the daily routine of staying in touch. …
"Decca, collated by Peter Y. Sussman, a former San Francisco Chronicle editor, reads like an autobiography. … Sussman does a fine job of stepping back and letting her speak for herself in the letters he culled from the thousands she sent over 60 years' time. And like a gracious hostess, her voice unparalleled, Mitford ferries the reader along, bounding with verve. …"
From a review by Joanne Sasvari in the Calgary Herald:
"Even in a family with no shortage of oversized personalities, Jessica Mitford stood out. …
"[S]he had a prime seat at the great conflicts of the 20th century, many of them acted out in her family's sitting room. And all the while, she took note of everything with her wickedly witty pen, in articles, books and especially in letters.
"Now those letters have been gathered into a book that offers a moving and intimate look at the most famous member of the eccentric and engaging Mitford family.
"To clarify the many inside jokes, historical references and relationships, editor Peter Sussman has divided the letters into nine chronological sections, each with a hugely entertaining biographical introduction. …
"She was funny, passionate, clever, idealistic, pragmatic and, in an odd way, intensely romantic. That luminous personality is captured in the hundreds of letters she wrote to friends, family and enemies, compiled here to evoke a true 20th-century original."
By Mary Beard in the London Review of Books:
"[I]f Decca is testimony to anything, it is to the transforming power of growing older. After the death of Romilly, she moved to the West Coast, eventually settling in Oakland, where she was based for the rest of her life … finding more lasting fame than her 'Mitford girl' celebrity by writing a series of brilliant – and brilliantly funny – exposés of various hidden corruptions of American life."
From a review by Amanda Hooton in the Sydney Morning Herald:
"Most of [the Mitford] children–a brother and six sisters–became independently famous. … Over the years, their wildly divergent lives–and, more significantly, the syntheses of those lives in print–gave rise to what we now call the Mitford mythology. Jessica, the second youngest, kept her end up. One thing–perhaps the only thing–that all the Mitfords shared was charm and it breathes through every letter: a certain extravagance of expression, combined with fearlessness towards outside opinion."
From Florence King in The American Spectator:
"Do not read this book while drinking or eating, else its pages will be splattered with whatever you were about to swallow when you came to an hysterically funny line and everything went down the wrong way.
"Laughter is the last thing you would expect when politically solemn Communists cross swords with professionally solemn undertakers, but when the Communist is the English aristocrat who wrote The American Way of Death, all bets are off."
By Ruth Mountaingrove in Senior News:
"This book is for those long winter days and nights. Decca is a wise and witty woman who writes wonderful letters to her friends. … If you enjoy reading well written, interesting letters, an art that has been lost to e-mail and text messages, you will enjoy these."
From a review in the San Francisco Chronicle:
"A cultural luminary … she was known for her outspokenness and humor. Now, reading her letters, as edited by Peter Y. Sussman … she seems as alive and witty as ever."
By Nancy Schiefer in the London Free Press (Ontario):
"A treasure trove of acid observation, rare wit and frank feeling, Mitford's letters are not to be missed."
By Lisa Waller in the Newscastle (Australia) Herald:
"A good collection of letters can be so much more satisfying than a biography when the author possesses the wit and verve of "Decca", arguably the most colourful of the famous and infamous Mitford sisters.
"They were an extraordinary band, close to everyone from Hitler to John F. Kennedy. But Jessica, a crusading journalist and social justice activist, is arguably the most fascinating because of the extremes of her two worlds: the English aristocracy she was born into and the postwar US radical politics that she took up with gusto.
"Her letters are a great mix of the personal and the political."
From a capsule review in the Montgomery Advertiser:
"This book of letters will make you wish they'd never invented e-mail."
Response to review in The Nation
Excerpts from a review in The Nation will not be posted here, for reasons that should be apparent from a letter to the editor in the Jan. 22, 2007, issue of the magazine. For those interested in reading it, the review may or may or may not be accessible still on The Nation's web site. The letter to the editor can be read here.

————————————
• BBC Radio 4 Book of the Week, November 20-24, 2006
(letters read by actress Rosamund Pike, with narration by actor Tom Chadbon)
• Two weeks on the Canadian bestseller list compiled by Macleans magazine
• Listed in the Palm Beach Post as one of the top 10 fall nonfiction books