(Originally posted on Huffington Post on January 14, 2009)
It may have been the most important product placement in history, surpassing the American colonists' dumping of crates of East India tea into Boston Harbor 235 years ago. When journalist Muntadar al-Zaidi crystallized world opinion by hurling his shoes at American President George Bush during a news conference in Baghdad in December, sales exploded at the Istanbul shoe company that identified the projectiles as its "model 271."
Other shoe companies have also claimed paternity, but the only known evidence — the shoes themselves — is said to have been blown to bits as a security measure.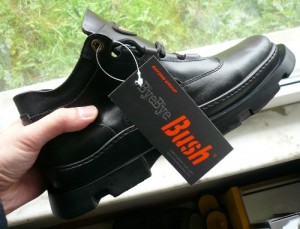 Huffington Post Istanbul Footwear Correspondent Anthony Giacchino forwards exclusive photos of the shoe heard round the world, which the company has recently renamed the "Bye Bye Bush." And in less than a week, the shoe will attain still greater international renown when al-Zaidi's traditional Iraqi gesture of contempt serves as inspiration for a Washington peace demonstration known as "Shoes for Bush."
At Baydan's Shoes, Ramazan Baydan's factory in the nondescript outskirts of Istanbul, where the international furor unwittingly began, Baydan has told interviewers that he has been overwhelmed with international orders since the
lone journalist's shoe-hurling during yet another of Bush's "mission accomplished" press conferences, his last one in Iraq.
Nearly a month ago, Baydan told Bloomberg news that he had received more than 300,000 orders for what he has now renamed the Bye Bye Bush shoe — more than four times the company's previous annual production of model 271. Ten days later, the number was up to 370,000 as orders that had started coming in from Iraq (120,000 initially) began to flood in from the rest of the world.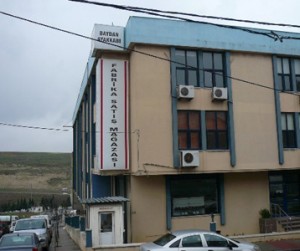 The shoemaker was sending advertising posters for model 271 throughout
the Middle East. The poster's message was simple: "Goodbye Bush, Welcome Democracy."
Baydan told Bloomberg that he was hiring 100 more employees to handle the added workload. Baydan said he had also received orders for 19,000 Bye Bye Bushes from the United States, as well as requests from distributors in other countries.
Huffington Post correspondent Giacchino traveled to Kucukcekmece, a dreary neighborhood about 40 kilometers from the center of Istanbul, to see Baydan's small and hectic workshop. He was taken through the showroom, where model 271, now the Bye Bye Bush, has a prominent place.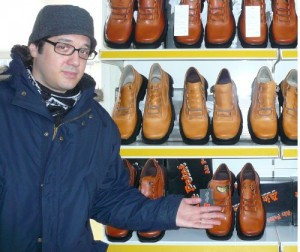 Giacchino reports that model 271 is the talk of Istanbul's shoe industry,
where opinion is split on whether the shoe was actually manufactured by
Baydan or whether he is simply a clever businessman with a brilliant marketing campaign. Many competitors in the Istanbul shoe business don't believe Baydan could have recognized his shoe from the Baghdad video of the shoe hurling. Although a few have claimed the celebrated footwear was theirs, said the wife of one shoe wholesaler, "Baydan claimed the loudest."
Although shoe makers as far afield as China have leapt to claim credit, Baydan will have none of it, telling the Christian Science Monitor: "I have a sensitive relationship with this shoe. I designed it myself, so it's like a father and a child. I was very happy when I saw it on the video."
Turks of a more philosophical bent, says Giacchino, are quoting a Turkish proverb: "The rich man's money makes the poor man's mouth tired."
Giacchino, an Emmy- winning documentary film maker whose last film was The Camden 28, reports that it's full steam ahead at the Baydan shoe factory. The film maker/footwear 2009-01-14-BBB2.JPG correspondent, who has just completed "Beltway Unbuckled," a two-hour special exploring the cross of sex and American politics (scheduled to air March 15 on the History Channel), is considering doing a video himself on the famed Istanbul shoemaker.
Meantime, the shoe's paternity is a trivial detail to the millions around the world who were inspired by the shoe-hurling to vent their suppressed anger at the commander-in-chief of the Iraqi invasion. Numerous shoe-related protests have already occurred, and the celebrated gesture of contempt is coming home to Washington on January 19, President Bush's last full day in office. [See update here.] A coalition of peace groups is planning a "shoe hurling action" at the White House.
Organizers, including the Washington Peace Center, After Downing Street, Code Pink and other organizations, plan to rally at 11 a.m. at Dupont Circle and then march to the White House "with shoes." Organizers, who have set up a web site at www.shoebush.org, say some war veterans will be traveling to Washington, prepared to hurl their combat boots.
Organizers promise a "cathartic shoe hurling action … in the spirit of journalist Muntadar al-Zaidi and for the widows, orphans and all those who have lost their lives in Iraq."